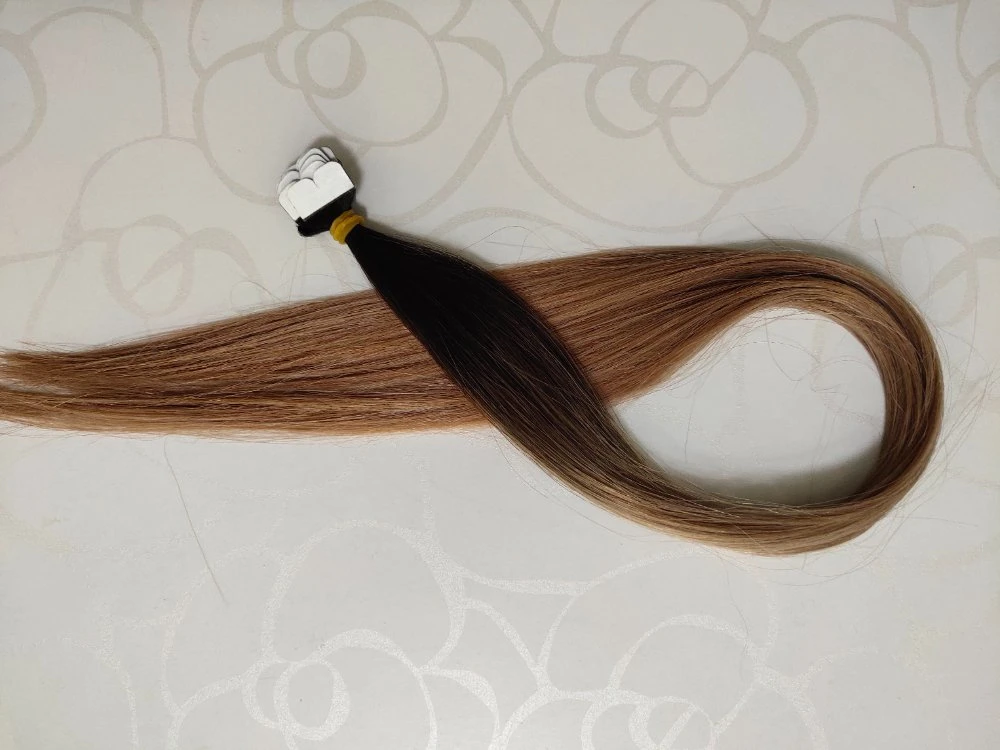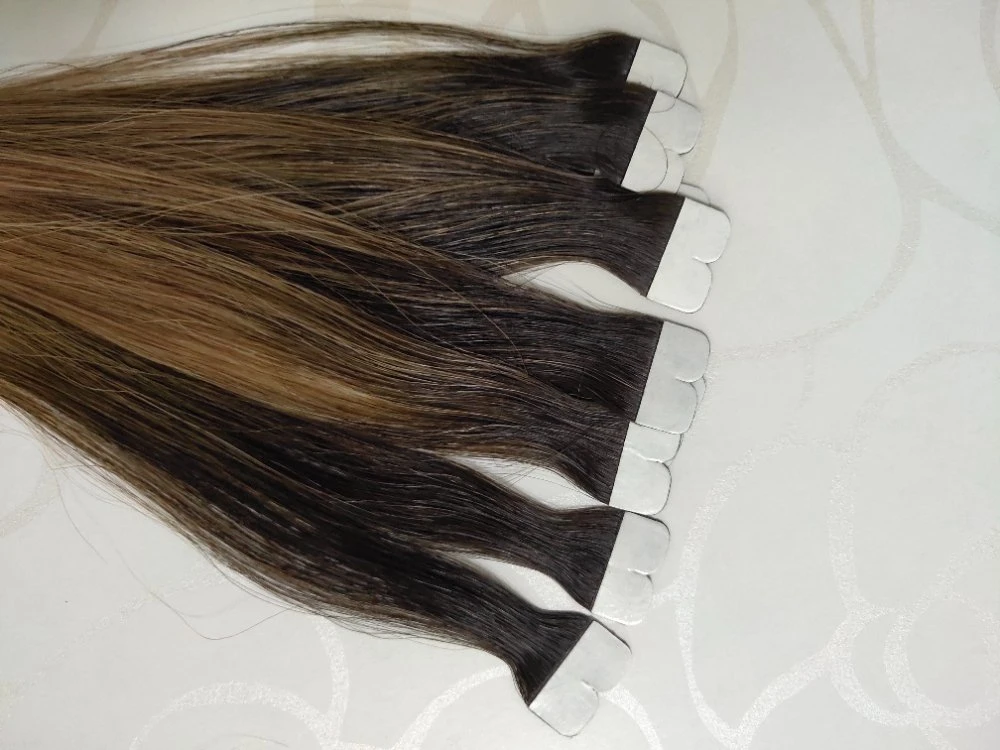 Details for custom order as following:
Product

Tape in Hair Extensions

Material

100% Authentic virgin remy human hair, durable, no dry, no tangle.

Adhesive tape

Select quality imported American double-sided adhesive tape, durable for 2-3months, no shedding and healthy.

Spec

4cmx0.8-1cm/2.5-3g/pcs, 40pcs/pack or customize.

Length

8-30inch are all available.

Color

Black, Brown, Blonde,

Highlight Rainbow colors, Multi mixed

Piano/Ombre Balayage colors are all available.

Style

Straight, Wave or Curl are all available.

Hair Ratio

Single drawn or Double drawn. Both are available.

MOQ

1kg. Each length, color, style at 1kg or 400pcs.
1. Our raw material
We are mainly focused on supplying various quality human hair products. We select quality human hair, remy human hair, virgin human hair or hair braid as raw material for our customers. We ensure all our human hair products are made of 100% human hair no mixed any synthetic fiber. We also make synthetic hair products by Kanekalon fiber or other quality brand fiber to meet customer's demand.
2. Available hair colors
We can make more than 40 hair colors according to customer's sample or color ring.
(e. g. #1, #1b, #2, #4, #6, #8, #10, #12, #14, #16, #18, #20, #22, #24, #27, #30, #33, #60, #99j, #130, #144, #350, #530, #613, Red, Yellow, Blue, Green, Purple, Pink, Orange, Silver grey, Mixed/Piano colors, Tone/Ombre colors, etc. )
3.
Available hair styling
Straight, wavy and curly styles are all available.
We can make more than 20 types of hair style according to your sample or picture.
(e. g. natural straight, silk straight, light yaki, yaki, body wave, loose wave, natural wave, water wave, deep wave, Fumi-wave, Italian curl, Loose curl, Fumi curl, Jerry curl, Kinky curl, Afro curl, etc. )
4.

Measure on hair length
Stretch the hair to straight, then measure it. In the same length, curly and wavy hair is shorter by 1"- 4" than straight hair which depends on how deep the curl is.
5. Product package
We supply free factory non-logo package as following:
(1) Black soft net + Plastic bag + White Card + Carton box
(2) Black soft net + Plastic bag + Carton Box
(3) Plastic bag + Carton box
We also supply OEM service, assisting customer to design and make their own logo package to prompt their business.


6. Payment terms

(1) We would like you send payment by T/T (Bank transfer) in advance.
(2) We also accept L/C in sight payment.
(3) You also can send payment by Western Union, MoneyGram or PayPal for your convenience.
Pls note that there is an amount limit US$5000 for once payment by Western Union and MoneyGram, or we can't get your payment as it will be returned to you soon by the bank according to the government policy once it exceeds US$5000. Paying by PayPal will generate 5% commission fee which will be at customer's charge.


7. Production time

(1) For stock hair products, we send it within 2 days after payment.
(2) For sample order, 3-15 days depending on the type of product. (e. g. for simple hair weaves 3-7 days, lace wigs within 15 days. )
(3) For normal order, usually7-30 days depending on the quantity. (e. g. for 1000pcs hair weaves 20-25 days, 1000pcs wigs 30-35days. )


8. Routine production process

(1) Select the raw hair material.
(2) Wash and disinfect the hair.
(3) Dye or bleach the hair.
(4) Comb the hair to be tidy bundles.
(5) Divide the hair into equal bundles.
(6) Sew or hand knit the hair into wefts or wigs, glue the weft or double knot hair to prevent shedding.
(7) Nourish and style the hair.
(8) Check the quality.
(9) Pack the products.
(10)Send the goods to customers.


9. Delivery term

We send goods by DHL who is dependable and has cooperated with us for many years. We also can send it by EMS, FedEx, UPS or air/sea freight when customers need.


10. After-sale service
Quality Commitment:
We ensure the quality of our hair products for all our customers. We supply replacement, compensation, even refund for all quality problems caused by factory including tangle, shedding, fake goods, etc.
Customer satisfaction is what we are always pursuing.
If you love our hair, send us a positive feedback will be greatly appreciated. Your positive feedback is always the motive power which will encourage us continue to supply high quality products to customers.
If any unexpected thing happened during our cooperation, please contact us at first time instead of abandoning us or leaving negative feedback only.
We will try our best to resolve the issues.
Pls give us the opportunity to solve the problem. Thank you.
Good luck with your business and wish you happy every day!









·Warm tips and frequently asked questions.


(1) How to choose hair care products?
A. Use Moisturizing hair care product.
B. Longing for shine, use a serum.
(Many hair care products that promote shine have a dryness effect on hair. )
C. Use gel or spray styling products to keep the hair style.
D. Olive oil will be a good choice to keep the hair healthy.
E. Use a heat protectant if you use hairdryer/curling iron/flat iron.
(This simple step will prevent breakage and keep your locks looking great longer. )
(2) How to care the hair?
One of the most important things on hair extensions is that you must baby them.
A. Washing and brushing your hair gently.
B. Pls do not wash the hair everyday too frequently, better once or twice a week.
C. Avoid blowing hair in high temperature by hairdryer which may damage it, especially at the hair-end.
D. Professional deep condition once a week. Leave it on the hair for 20-30 minutes and rinse.
E. Trim the ends of the hair every 6-10 weeks.

Following are some tips on hair extension washing:


(3) Why hair extensions shedding and tangle?
Shedding:
A. A few strands initial shedding on new hair is normal. We always suggest customer seal weft before installation and brush hair with wide-tooth comb.
B. Excessive shedding may be caused by weft cutting or hair dryness. Pls always seal the weft edge by glue when you cut it for installation and keep the hair moisturized.
C. Another phenomenon of shedding may be caused by original glue at weft edge aging after long time sun-exposing and hair damage lack of proper care. What you can do to save your hair is to add new glue on the weft edge and give it a proper care.

As a manufacturer with 2-decade rich production experience on hair products, we strictly control every production process and adopt advanced technics to ensure our hair products durable, tangle free and no shedding.

Tangle:
Usually, our hair will not tangle because we test all the material by washing experiment at initial production process. However, hair dryness, oil or dirt build up, salt water, hair damage or not combing out daily will lead to tangle or shedding. Pls follow hair care instruction and use good shampoo and conditioner to wash hair twice a week.

(4) What is the lifespan of the hair?
It depends on how customer maintains it. Better care, longer lasting.
For common human hair, at least 3-6 months under proper care.
For Remy human hair or virgin hair, at least 1-year under proper care.
With enough care, the hair can last as long as your own hair until you decide for new ones.

(5) Why there is color difference?
Different displays may have off color.
The identical colors from different firms and factories may have a little color difference. We also have our factory own color chart/ring for your reference.
If possible, we suggest you send us samples or your own color chart/ring, then our dyeing expert can dye the hair specially according to your standard.

(6) Can the hair be straightened or permed?
Yes. But pls with proper temperature (100 ºC~120ºC/212ºF~248ºF better).
Meanwhile, use professional hair conditioner regularly, especially at the hair end.
Pls do not do it frequently, or the heat will cause the hair dryness, damage, even tangled.

(7) Can the hair be dyed or bleached?
Yes. As the general rule it is easier to darken the hair than lighten the hair.
Blonde hair has been bleached multi-times to fade the color so more caution must be taken.
We recommend dyeing darker, since it is difficult for the original color to fade.
Coloring them yourself may take a risk of not coming out the shade you want.
Highly recommend having your hairdresser dye the hair. If you cannot get to a salon, pls always use a good quality product and test a small sample first.

(8) How to tell human hair with synthetic hair? How do I know if the hair is human hair?
Human hair has natural protein. It is easy to tell by burning and smell: Human hair gets ash after burn and goes away easily at fingers-pinched, and it has a protein smell of scorched and shows white smoke in burn. While synthetic hair gets a sticky ball and shows black smoke after burn.
Moreover, human hair may have very few gray hairs in and split ends. It is normal and not a quality problem.

(9) What determines the price of the hair?
The factors that determine the hair price are texture, thick end, length, and dyeing color.
About texture, it can be divided into common human hair(non-Remy), Remy hair and braid hair. The common human hair is inexpensive, and it usually can last 3-6 months. Remy hair and Braid hair can last 1-2 years under proper care. Common human hair is easy to get tangled and shedding when the factory failed in acid treatment and sewing-gluing process. Braid hair is expensive as its high production cost. Remy hair has good quality and moderate price. Which kind of hair should be ordered depends on the market demand of your area.
About colors, we can make various ones from dark colors #1, #1b, #2, #4, #6, #8 to middle colors #10, #12, #14, #16, #18, #27, #30, #33, #99j, #144, #350, #530 and light colors #20, #22, #24, #60, #80, #613 and silver grey, also rainbow colors red, green, yellow, blue, pink, purple, mixed/piano colors and tone/ombre colors, etc. Light ones is a little expensive than darker ones.

(10) What is Remy hair?
Remy hair refers to the hair of which cuticles all aligned in the same direction. Non-Remy hair refers to the hair of which cuticles aligned in different direction-that is why such hair easily getting tangled before acid treatment. Usually factory will remove all the cuticles of non-Remy hair to avoid tangle, which effects lifespan of the hair.

(11) What about the tariff?
The price of our products does not include the import tariff of your country. However, we have many modes of transportation that can help you clear customs and pay customs duty. Pls contact our business manager to help you choose the best mode of transportation.