Our tape in hair extensions are produced with 100% Raw human hair cuticle aligned one donor.
It comes straight and smooth and can be curled and styled just like your own hair.



It is more comfortable and invisible for a natural looking extension.





Tape in hair extensions are non-damaging and very easy to remove/reuse.
- Tape weft size: 4*1cm
- Length 14-24 inches
- 100% Raw Virgin Cuticle Aligned One Donor human hair extensions in PREMIUM quality.
- Professional salon quality tape.
- Natural healthy ends.
- Pre-tapes and ready to apply.
Customized order is available, please contact us for more info. :-)
100% Premium Raw Virgin Cuticle Aligned Human Hair One Donor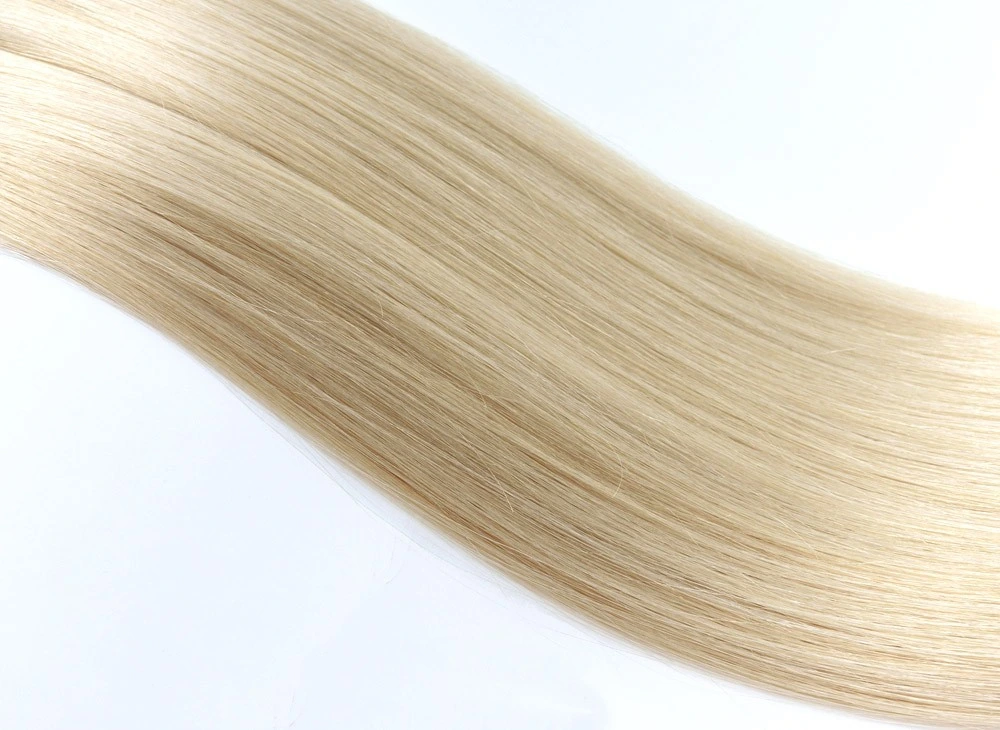 Pre-Taped and ready to apply.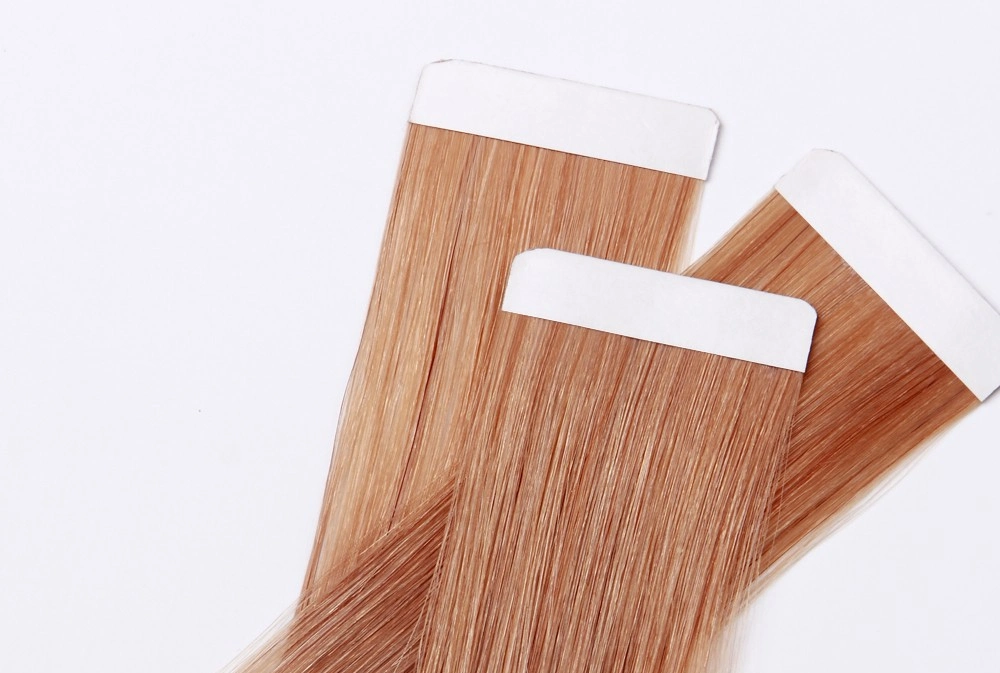 Thick and healthy end.

Thick from top to bottom.
No split and dry hair.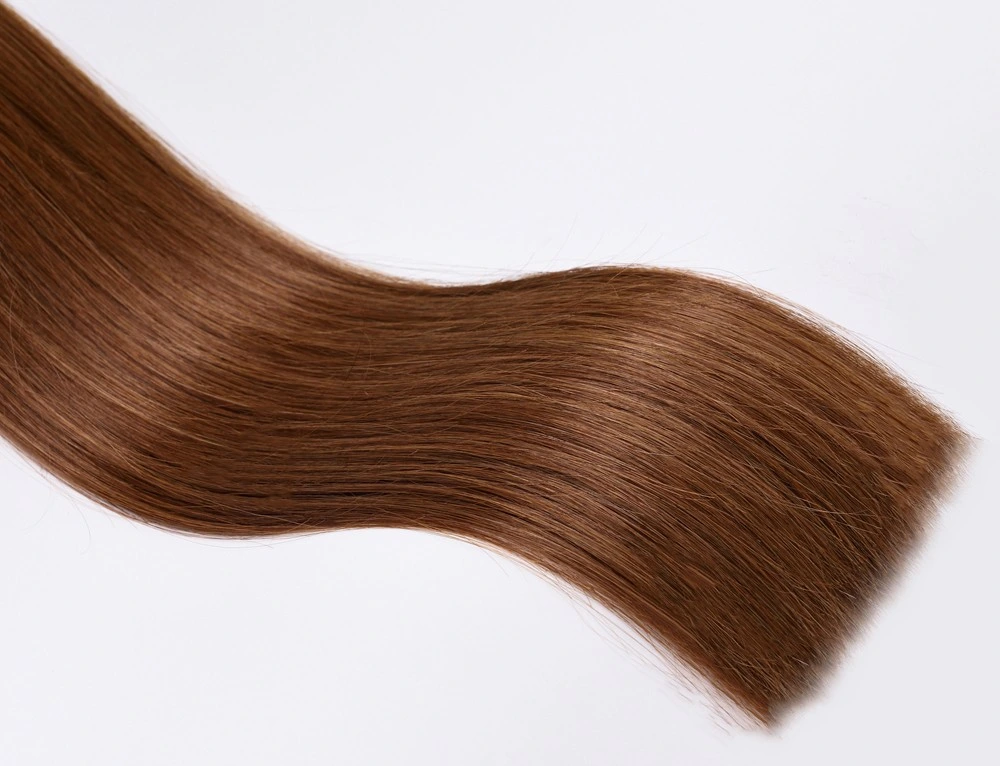 Longer lasting tape.





Easy remove and replace.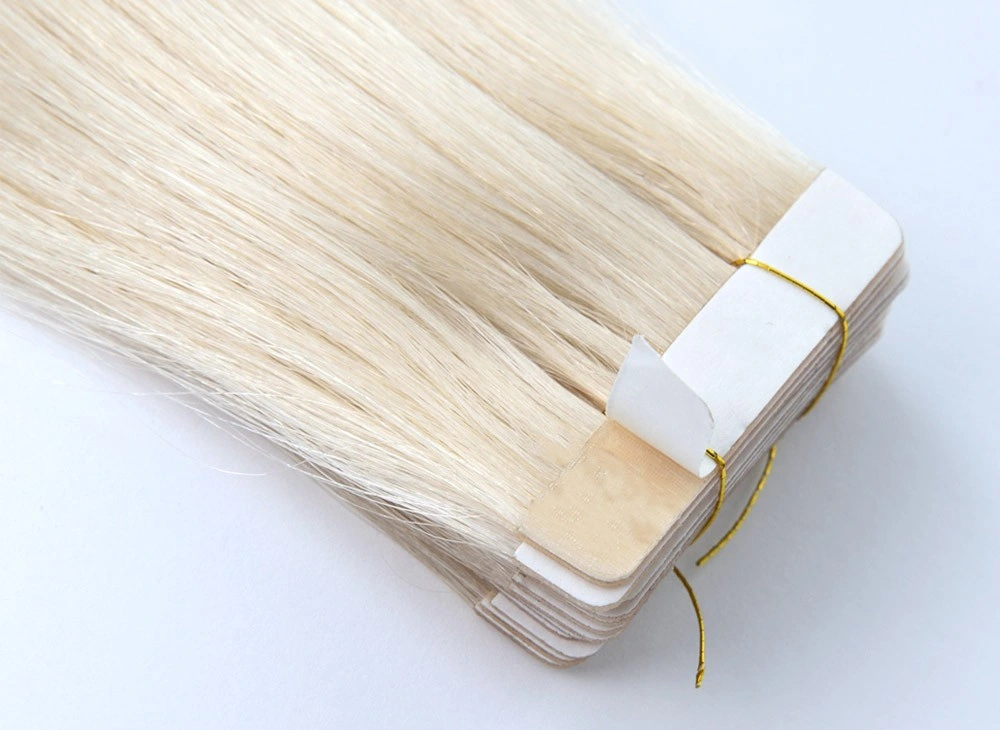 Multi colors options.
Balayage and ombre colors available.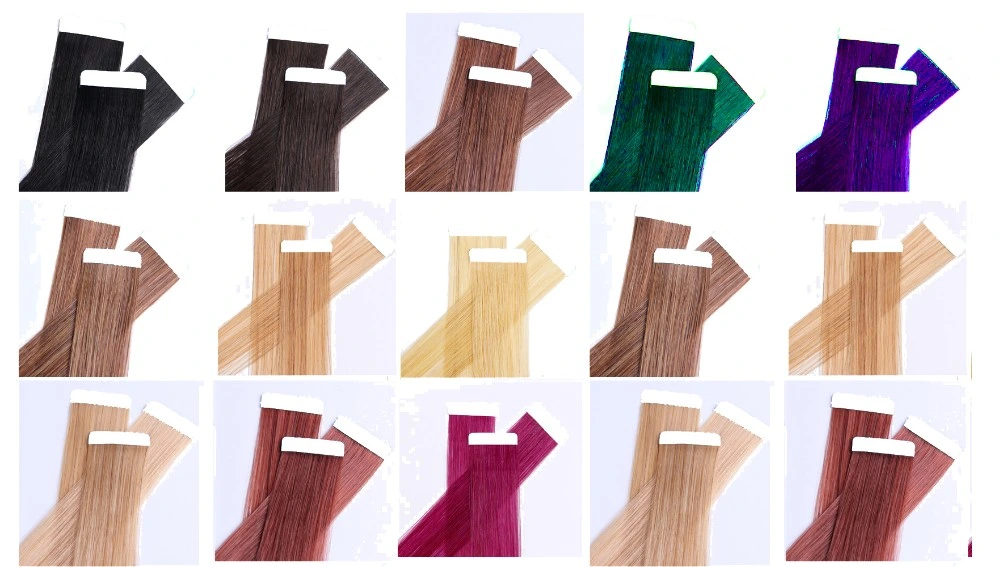 As a manufacturer which focus on 100% HUMAN HAIR EXTENSION,
what we do is more than produce.
We also provide:
- New Hair extension development
- OEM/ODM Service
- Social Responsibility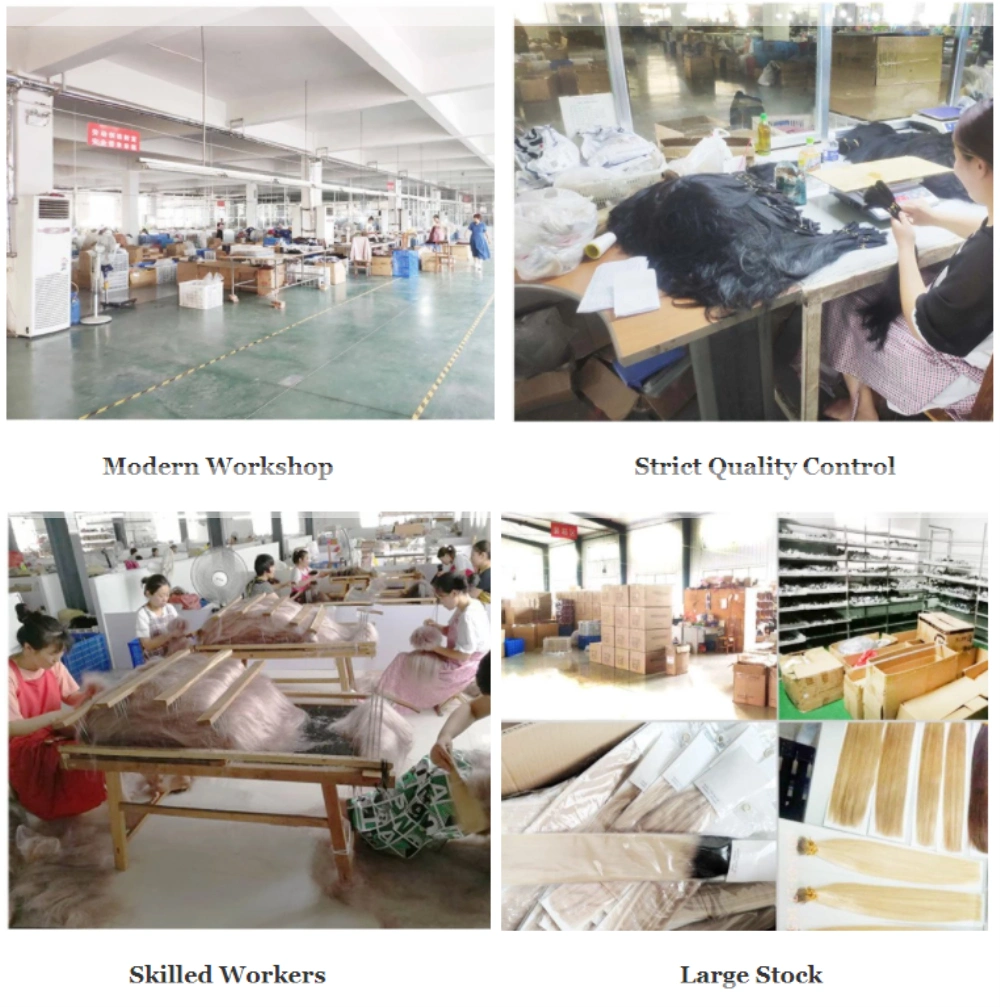 > How to use the tape in hair extension?

Tape-in extensions are great if you want to temporarily lengthen your hair or add in some faux-highlights, as they aren't permanent and are relatively simple to put in. They do not require special heat tools, so they can be applied at home without the assistance of a stylist.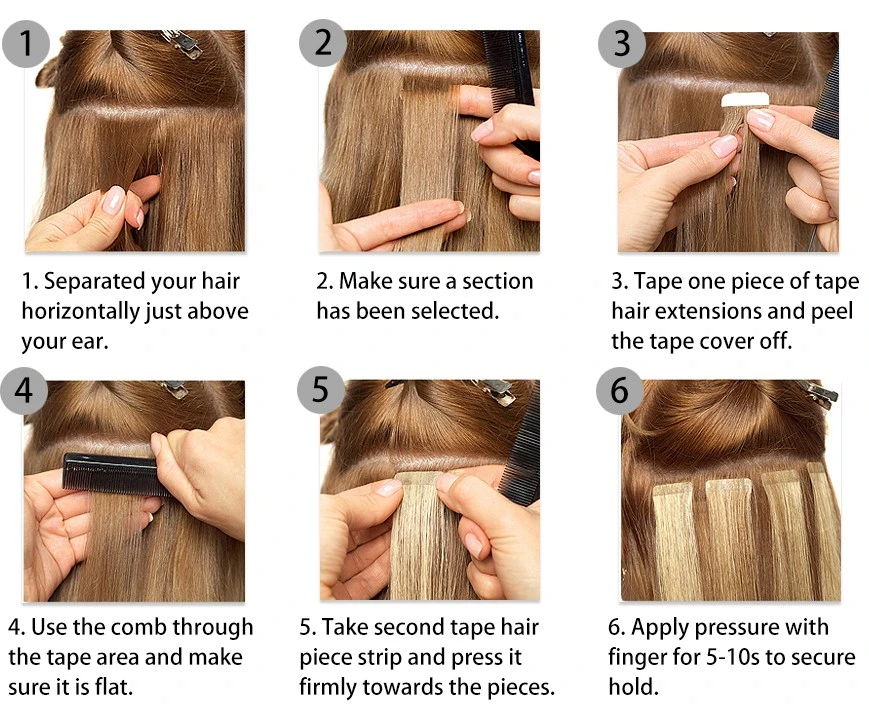 > How do I know which colour to choose?

We have a wide selection of colours to choose from, and our human hair products can also be custom coloured.
If you still can't find or unsure which colour will match you from our colour chart, feel free to contact us. :-)

Pls note due to the different factor affect, like the light shooting, camera function, different minitor,
the colours appear on your screen maybe distorted, the final colour of actual hair shall prevail.

We recommend to order 1 set our colorchart to get a good match.

> How to choose the correct length?
This guide will help you to determine where a length will fall when placed at the top of the head. The hair
will fall even longer when placed at the nape area.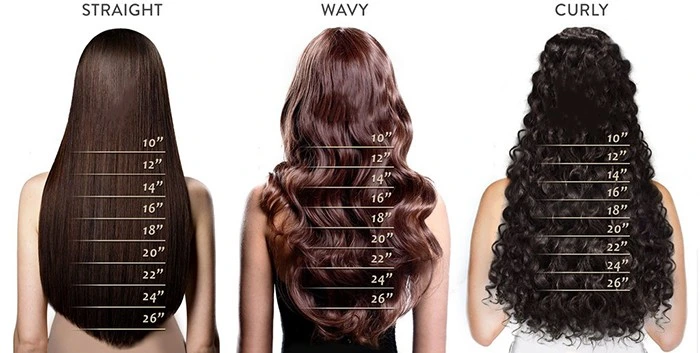 IMPORTANT: The wavy and curly hair is measured when pulled straight.
> How long do my hair extensions last?
The lifespan of tape in hair extensions will depend on how well you take care of them, what products you use on them, and how often you wear them. With proper care and regular wear, our hair extensions last 3-6 months usually.
We recommend that get your tape extensions moved up approximately every 6-8 weeks. However, this will differ based on the individuals' hair growth.
> Can I dyed my hair extensions?
Our hair extensions are made of 100% remy human hair and can, therefore, be dyed a darker color. We do suggest getting a professional opinion by an experienced colorist. Dyeing may lead to shortening the lifespan of your hair extension and possibly cause damage if not done correctly. We also recommend not lightening or using any bleaching agents.
> Can I use styling tools on my hair extension?
Yes, you can! We always recommend using a heat protectant spray and on a side note some ladies wash them first to take off the vitamin enriched coating.
> How do I wash my hair extensions?
The hair extensions can be washed and styled just like your own natural hair.

ONLY wash your hair extensions when they look like they absolutely need it! As they are not attached to

your scalp, they don't receive the natural oils as our own hair does! So there is no need to wash them as

often as you wash your own hair. As a general rule, the less you wash your extensions the longer they will last.
> What is your return and exchange policy?
We're sorry to hear your hair extenstion were not a good match for you!


We are happy to accept your set back for a return or exchange within 30 days, as long as it has not been used, worn, or tampered with.
PLS CONTACT US FIRST TO GET THE BEST SERVICE.
All customers are responsible for their own return shipping costs. We recommend that you send your return with a tracking option as we cannot take responsibility for lost returns.
> Shipping Address & Custom Tax
Address with "PO.Box" or APO(Military Base)are not accepted, pls leave your detailed address including the street name and apt No..
Custom tax is decided by different country's policy, and the customs will spot check the packages, which is not under our control. But we usually write the hair sample and lower value to help our clients avoid the custom tax.You also can leave us a message about the value you want to declare while placing order. Thanks so much for your cooperation.