PP Yarn Extruder Machine Line for Making Woven bag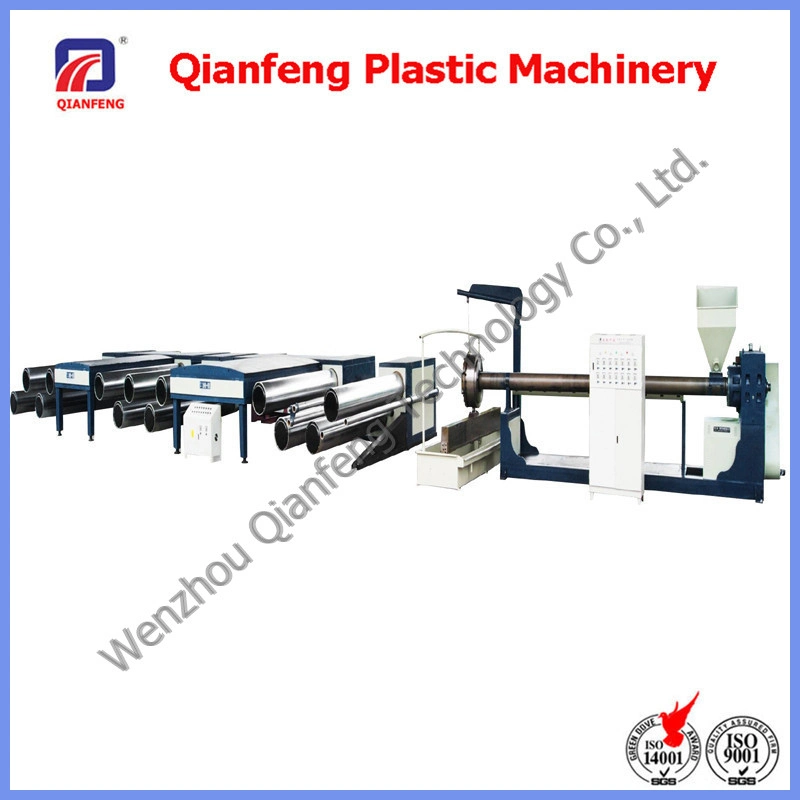 Peformance And Characteristics:
This machine uses the PP or HDPE material to produce tapes for PP woven bags weaving through production procedures of material heating& extruding, splitting the film into tapes, tapes stretching & forming and tapes winding on the bobbins by winding machine, then put the bobbins with tapes on circular loom for weaving. This machine can use all kinds of materials, such as 100% recycled materials, power materials or pellet materials. Its screw and cylinder and other important parts adopt special alloy steel.
(
This set has included automatic feeder
)

Our energy-saving tape extrusion machine such as 3.2meter production capacity is 8Tons/day, electricity is only 2500 degrees, keep saving 500 degrees than the other tape extrusion machine,
Main Technical Parameters:
| | | | | | | | | | | |
| --- | --- | --- | --- | --- | --- | --- | --- | --- | --- | --- |
| Model | FS135/1600 | FS140/1800 | FS145/2000 | FS150/2200 | FS150/2400 | FS160/2600 | FS160/2800 | FS160/3000 | FS170/3200 | FS170/3500 |
| Diameter of screw(mm) | 135 | 140 | 145 | 150 | 150 | 160 | 160 | 160 | 170 | 170 |
| Ratio of screw L/D | 26:1 | 26:1 | 26:1 | 26:1 | 26:1 | 28:1 | 28:1 | 28:1 | 28:1 | 28:1 |
| Revolution of screw(r/min) | 22-65 | 22-65 | 20-60 | 20-60 | 20-60 | 20-60 | 20-60 | 20-60 | 20-60 | 20-60 |
| Motor of extruder(kw) | 37 | 37 | 45 | 55 | 55 | 75 | 75 | 90 | 90 | 110 |
| Heating power of extruder(kw) | 77 | 80 | 86 | 86 | 92 | 96 | 106 | 106 | 112 | 118 |
| Width of die | 1600mm | 1800 | 2000 | 2200 | 2400 | 2600 | 2800 | 3000 | 3200 | 3500 |
| Power of driving motor(kw) | 7.5 | 7.5 | 7.5 | 11 | 11 | 11 | 11 | 15 | 15 | 15 |
| Power of heating board(kw) | 20 | 20 | 22 | 22 | 22 | 22 | 25 | 25 | 25 | 25 |
| Stretching ratio | 4-12 | 4-12 | 4-12 | 4-12 | 4-12 | 4-12 | 4-12 | 4-12 | 4-12 | 4-12 |
| Extrusion capacity(kg/h) | 90-180 | 100-200 | 110-240 | 120-260 | 140-280 | 140-300 | 160-320 | 160-340 | 180-350 | 200-360 |
| Winding linear speed(m/min) | 50-150 | 50-150 | 50-150 | 50-150 | 50-150 | 50-150 | 50-150 | 50-150 | 50-150 | 50-150 |
| Thickness of tape(mm) | 0.03-0.8 | 0.03-0.8 | 0.03-0.8 | 0.03-0.8 | 0.03-0.8 | 0.03-0.8 | 0.03-0.8 | 0.03-0.8 | 0.03-0.8 | 0.03-0.8 |
| Weight (About)kg | 16000 | 17000 | 20000 | 21500 | 23000 | 24500 | 25000 | 26500 | 27500 | 29000 |
| Overall dimension (L×W×H)mm | 20000*2600*2200 | 20000*2950*2200 | 21000*3400*2200 | 22000*3700*2200 | 22000*4000*2200 | 23000*4400*2500 | 23000*4600*2500 | 24000*4800*2500 | 25000*5000*2500 | 25000*5200*2500 |
Machine photos and patents: