acrylic makeup organizers with drawers
- 100% new cast acrylic the highest quality Acrylic available.
- different sizes of organizers available.
- Hinged top lid for easy top shelf access, and the ability to leave the lid open and store taller items in the top shelf.
- Removable top shelf allows you to combine the top two tiers to fit even larger items.
- Smooth sliding drawers for ease of use.
- Standard sized drawers designed specifically with common makeup sizes in mind and a larger bottom drawers for extra storage.
We pride ourselves in designing and manufacturing a high quality acrylic makeup organizer that is affordable for women of all ages who want the amazing convenience and beauty that these amazing clear cosmetic cubes provide WITHOUT the huge price tag.
You deserve it, and so does your makeup :-)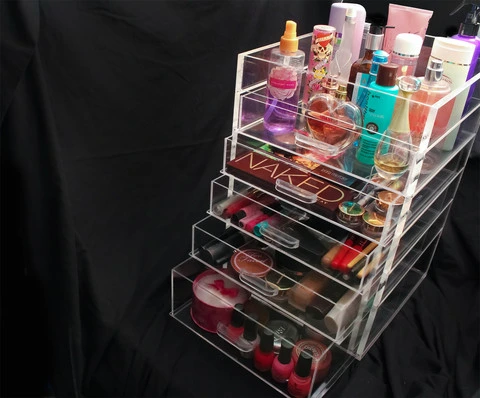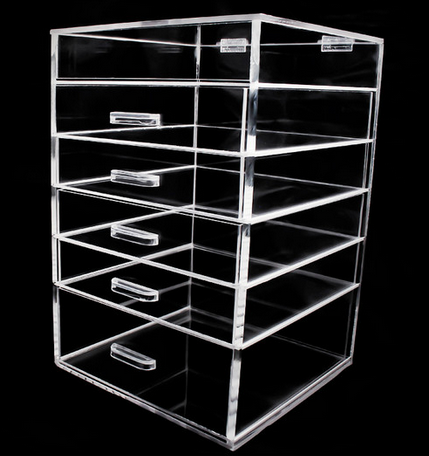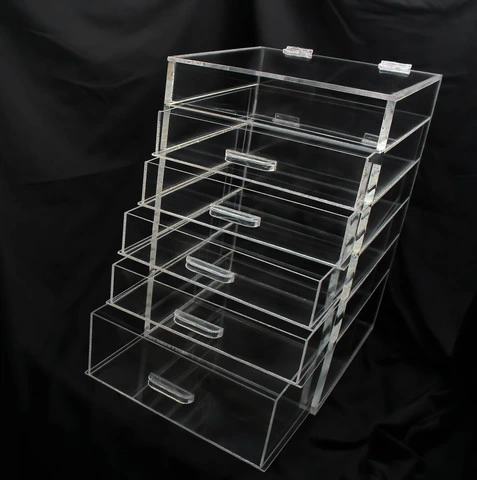 PRODUCT DIMENSIONS
6, 5, or 4 Slide Drawers + 1 Lid Drawer (7, 6, or 5 Total Tiers of Drawer Space)

Hand Made With Clear 3/8" Heavy Duty Lucite Acrylic

Organizer Sizes:
7-Drawer: 18'' H x 11'' L x 11'' W
6-Drawer: 15'' H x 11'' L x 11'' W
5-Drawer: 12'' H x 11'' L x 11'' W
Drawer Size: 2-1/8" H x 11" L x 11 W

Bottom Drawer height: (7-drawer) 4.0'' (6-drawer) 3.5'' (5-drawer) 3.0''